Century Old Neighborhood is Town's Best Kept Secret
Century Old Neighborhood in South Orange is One of the Town's Best Kept Secrets
The Tuxedo Park neighborhood of South Orange boasts a variety of home styles ranging from Colonial , Tudors and Victorians and wide, tree-lined streets. It exudes a sense of family-friendly community and reflects the quaint urban-surburban vibe that the town is known for.
When asked what they like best about living in South Orange, residents almost invariably cite three attributes: the rich and varied architecture, the demographic diversity, and the easy commute into Manhattan.
A Little History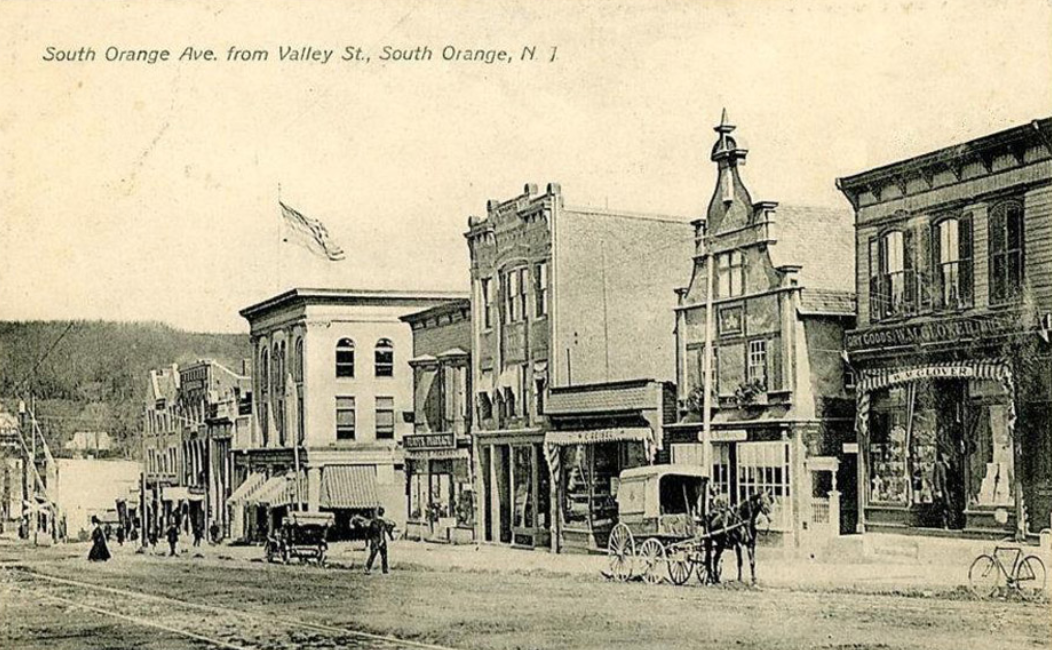 The entire swath of land that became Tuxedo Park was first owned by Thomas Kilburn, was once called "Homestead Farm" according to the Essex County Atlas at the time. Originally most parcels were being sold with twenty-foot frontages, and homeowners would usually purchase three parcels at a time so that they could have sixty-foot frontages. Development at first was slow, with the first three homes being built in 1913 and only 21 more until 1919. The next ten years (1920-29) saw massive development, with 151 houses or 78% of the existing 219 houses, being built. The decade 1930-39 saw an additional 13 houses built, with the remaining 9 houses constructed after 1940.
How Did Tuxedo Park Gets its Name?
It is possible that it is named "Tuxedo Park" after Tuxedo Park in New York, which was established in 1886, the same year that an heir to the Lorillard tobacco fortune wore the first formal tuxedo jacket at a Tuxedo Park function. The New York Tuxedo Park was named after a tribe of Delaware Nation Indians known as the P'tuksit. The name means the "wolf-footed or round-footed" ones. English settlers later anglicized the name to Tucksito, which finally became Tuxedo.
It's all about the Neighborhood
As a resident of both South Orange and Maplewood over the past decade, one thing you always hear is how great it is to know your neighbors. These connections are often developed through Neighborhood and Block Associations. Neighborhood associations are inclusive and improve the quality of life of our towns, increase citizen participation in local decision-making, and form effective partnerships between municipal leaders and neighborhood residents. They provide forums for residents to discuss and address issues specific to the neighborhood, and offer opportunities for making life-long connections.
There are a host of additional benefits to forming Neighborhood/Block Associations, including: joining neighbors in shared neighborhood projects, welcoming and introducing new residents, providing a support system for neighbors in need, sharing referrals for plumbers, babysitters, landscapers etc., and holding social events. (Think block party!!)
There are 10 Neighborhood Associations in South Orange. The South Orange Neighborhood Association (SONA) is an umbrella organization that coordinates activities across Neighborhood Associations, especially on interests impacting multiple neighborhood associations (e.g. Public Safety, Pedestrian Safety, Development, and Property Taxes). See below for more detailed information about the Tuxedo Park Neighborhood Association (TPNA).
About the Schools:
The School District of South Orange and Maplewood serves more than 6,800 students in nine schools, including six elementary schools, two middle schools, and one high school. The community and its schools are racially and economically diverse and proudly send more than 91 percent of Columbia High School graduates to college each year. Columbia High School has a reputation for academic excellence and offers advanced placement, college prep, and vocational courses as well as classes in filmmaking and journalism. Columbia offers 25 extra-curricular clubs ranging from astronomy and chess to fencing. It also has students participating in 23 varsity sports. Take a look at the following Fact Sheet put out by the school district.
Neighborhood Association: Tuxedo Park Neighborhood Association (TPNA)
This year the Co-Presidents of the Tuxedo Park Neighborhood Association are Phil Schmiedl and Freddy Arsenault, with Matt Pearce and Thair Joshua serving as Co-Vice Presidents, Jaime Hayes serving as Secretary and Susan Hyon serving as Treasurer.
There is also an active Social Committee responsible for establishing and managing a number of social events promoting neighbor spirit. Some of the events that are put on throughout the year include:
Spring Fling! (May)
Summer Block Party (September)
Halloween Party (October)
Holiday Party (December)
Greeting New Residents
There is also a neighborhood directory and regular communication via email and newsletter. Every household in Tuxedo Park is eligible for membership and remains a member as long as they reside in Tuxedo Park and are current with their annual dues. You can contact the association here: [email protected]
Additional Resources for the Tuxedo Park Neighborhood:
Transportation
South Orange is served by two New Jersey Transit train stations on the Morristown line. The trip to Penn Station takes 30 to 40 minutes. For residents of outlying neighborhoods, there is jitney service to the train station. The 107 New Jersey Transit bus line also provides direct service into the city, taking 48 minutes to get to the Port Authority. During noncommuting hours, the drive into the city, via Route 280, can take as little as 25 minutes.
Check out our newest listing in Tuxedo Park:
Public Open House 2/11/18 from 1 to 4 pm
Exclusive, invite-only event on 2/10/18 - email Caroline for more info at [email protected]
Check out this video about the "Two Towns" of South Orange and Maplewood (SO/MA)
(Courtesy of www.twotowns.org)
Welcome to the towns of South Orange and Maplewood NJ - a welcoming community for all race...